Finnish duo Jessika Rapo and Henry Ojal are the brains behind Burning Hearts – the band that brings us this week's luistertip, Extinctions. And what beautiful brains they must be to conjour up such a wildly enticing Scandinavian landscape in their music, dedicated to people and creatures that may no longer be of this world – although, to be fair, I only hear mention of animals that are still to be found in some nether parts of this world: wild bears, dancing foxes and swooping swallows to name but a few (maybe the only extinct animals appear on the album's quite beautiful artwork, designed as a collaboration between the band and illustrator Emil Bertell; see below).
This is the band's second LP, which was released in the early part of 2012 (on Shelflife / Solina Records). The album was recorded in the province of Ostrobothnia, not far from where the duo grew up in the Swedish-speaking part of Finland. The environment proved to be inspiring, as did real life – many of the songs on the album are a consequence of tragic stories that in one way or another touched the band. Death and human tragedy may tinge the album with some aspects of darkness, but it is also light and hopeful. Melodies, harmonies and the somewhat mournful vocals of Jessika Rapo are a wondrous match.
Animal instincts, prey, survival – it is nature's way – and nature abounds in the mountains, tundra, stars and wilderness that create a setting for an album that is infinitely listenable and I, for one, have had it on repeat since I first discovered it at the end of last year. If you like what you hear on the album, check out the band's website, soundcloud and tumblr pages for some quite amazing remixes and fabulous mixtapes. And then, to top it all off, you can check them out live as the band are on a little tour very soon: Burning Hearts will play at the Nordic Delight festival in Utrecht on 2 March, which follows on the band's appearance at the Ja Ja Ja Nordic night in London on 28 February. I'll see you down the front!

('Burn, Burn, Burn' remix by WÆE – which includes an excerpt from The Surprise, a short story by Swedish writer Stig Dagerman)
UPDATE: Burning Hearts has been nominated for an Emma Award (the Finnish equivalent of the Grammys) for Extinctions in the categorty Best Album Cover Art of the Year. The band worked with Emil Bertell, with his wife Kea, on the design which features a cocophony of extinct beasts in the form of a new typeface which spells out the album name. It is indeed beautiful and we wish them luck! Winners are announced on 1 March 2013.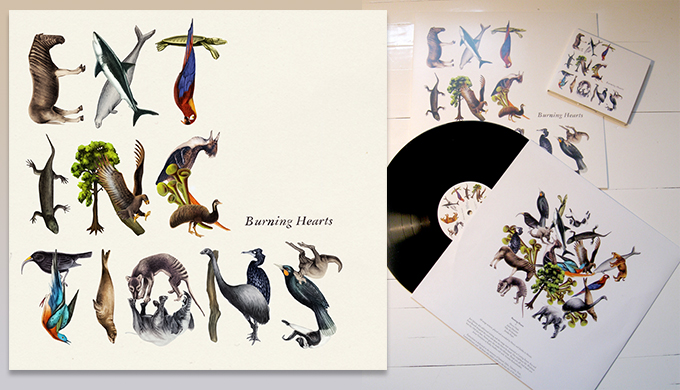 Website Nordic Delight
Facebook Nordic Delight
____________
Extinctions – Released 21 February 2012: