Geothermal pools at Gesyir. (Photo: Carmel McNamara)
Lava rocks; geothermal pools; steaming lakes; drifting plates; glacial fields. Have you guessed where we are yet? Iceland: it's a curious place with a touch of magic. This inspiring landscape was the focus of a literary evening held in Amsterdam earlier this month, entitled 'Excavating Iceland'. The event, organised by Versal and hosted by Battalion gallery, took the audience on a journey through poetry, collaborative performance, video installation and story telling. It featured poet (and Versal founder and editor) Megan M Garr, visual artist Shayna Schapp, collaborative performance duo Kristinn Gudmundsson and Peter Sattler, and poet/writer Vera Knútsdóttir.
Poet Megan (standing) and artist Shayna (sitting, wearing red) at the event in Battalion. (Photo: Versal)
From the vantage point of the gezellig upstairs room of the gallery, layers of colour stretched out in front of us from the crisp white snow to the fresh green moss – and at one point, we were even on a lunar landscape – thanks to all the Iceland-related tales that were delivered by people who had travelled there or lived there recently. From Megan M Garr's poems, we captured the colours of the landscape in our minds and really grasped the essence of exploring this strange world. And it was Megan (after sharing her dream of being the first poet in space) that likened Iceland to the surface of the moon and her poems that were penned during her 3-month trip will be published in a future collection, to be aptly entitled Astronaut, Astronaut.
For visual artist Shayna Schapp, the outcome of her research trip was not so much sketchbooks crammed full with drawings and paintings. During the trip, she was transported back to her childhood – where she used to make 'rock gardens' with twigs, stones and moss. The colour of the scenery that confronted her during the trip was a source of inspiration, as were the mysterious rock formations that are everywhere (see photo below). So Shayna began rock hunting, and she returned with a collection of stones in an earthy rainbow of hues, from snow white and ash grey all the way to lava black (the pebbles can be seen on the table in the photo above left). During the time it took to tell her story, the stones were presented one by one. Shayna was constantly playing with the pebbles, rearranging them, as if they pieces in a board game, but a game that she and audience members were making up as they went along. This little collection of stones was intriguing, as was the dialogue that was the soundtrack to their story.
The star of the evening was without doubt Iceland's terrain, mainly described in English (with a few Dutch, Latin and French words thrown in too), with one major exception. The poetry that opened the evening included lyrical verses – delivered in Icelandic – by Vera Knútsdóttir. We were treated to two of Vera's poems, which she recited in her native tongue, only one word of which I could translate (gamli = 'old'). Not that I minded. In the past two years during the time I have lived in Amsterdam, I have on occasion listened to poetry in Dutch – a language that I'm still mastering – so I often found myself making up my own meanings in my head. This evening, however, I experienced something new. On this occasion, once Vera had recited the poems in her own lyrical language, she then gave an English translations.
Rock piles near Gullfoss. (Photo: Carmel McNamara)
Here below is an extract from one such translation:
"You drive a long long
road and narrow

pass a few farms
and lóum

over several bridges
see blue mountains
in rear-view mirror.

Over mountain
bypass water

down the mountain road
that's pretty terrifying

then facing you
blue sea
green cove."
The intricacies (and difficulties) of translating poetry into another language from a poet's perspective is another story entirely that wasn't covered in detail during the evening, but – watch this space – perhaps someone with a personal perspective will be contributing the story for a future article?
Yes indeed, 'Excavating Iceland' certainly had its fair share of stones, rocks, pebbles and gravel, along with a few tectonic fractures. The final piece to mention was entitled 'Icelandic–Austrian Dialogue' by the performance duo Kristinn Gudmundsson (IS) and Peter Sattler (AT). Based on a conversation about memories from a road trip the two friends had taken in both Iceland and Austria earlier this year, it featured a few stereotypical observations: hot dogs, horses and hot springs versus schnitzel, Schwarzenegger and ski jumpers. No prizes for which tallies with which country! 😉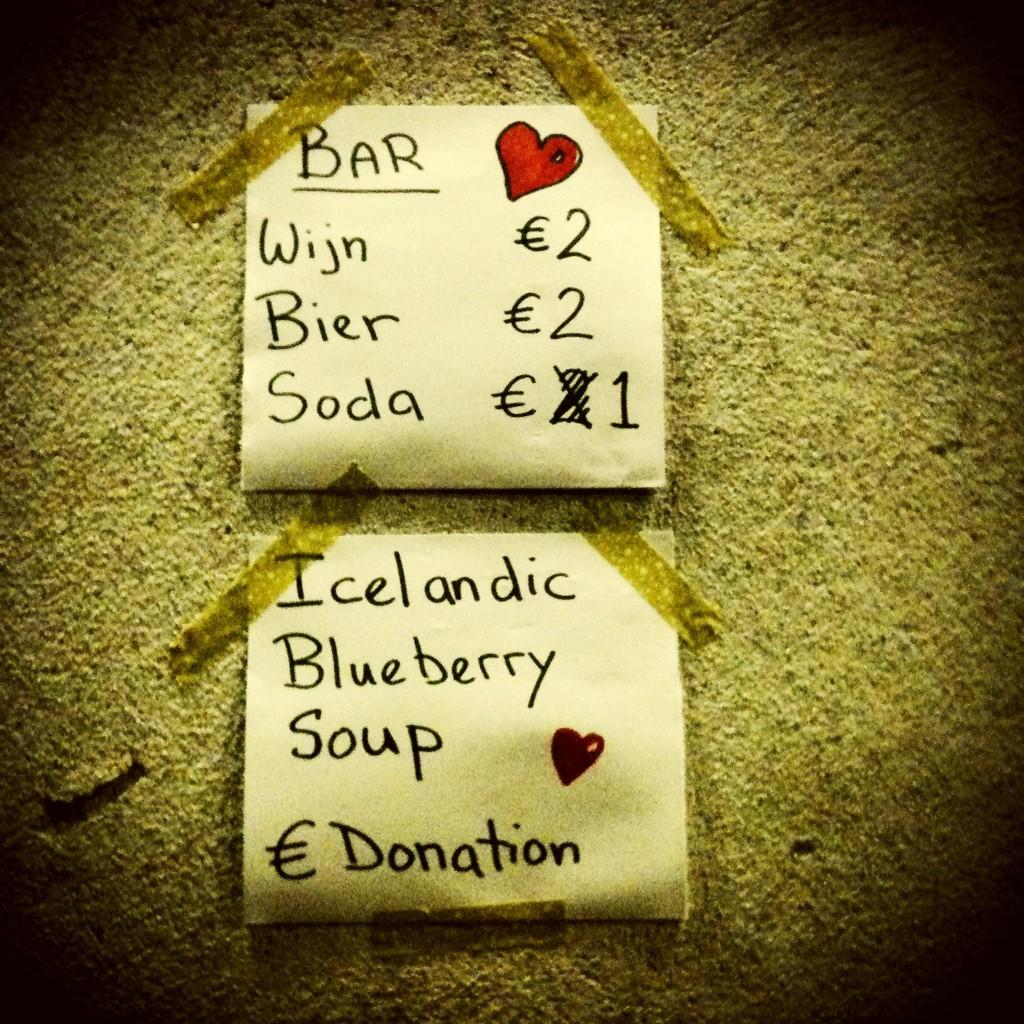 After the literary entertainment, whilst sipping Icelandic blueberry soup (note: it was suggested to me that this isn't a very Icelandic culinary delectation, but it tasted sweet!), a video installation from Danish artist Barbara Amalie Skovmand Thomsen was projected onto the wall overhead. All in all, a packed itinerary for this fun (and free!) literary evening – the first of its kind held by the team behind Versal. These (semi) regular events at Battalion are to be known as 'Not a Reading Series' which is just what the name implies – instead of your typical literary event of dry deliveries and yawning audiences, the aim is to feature vaudeville acts, music, poetry and drama from the strangest mix of people and experts you're likely to find. Keep in touch with Versal to find about the next event.
____________
Versal Journal
www.versaljournal.org
megan@versaljournal.org
Events @ Battalion
Battalion, Lijnbaansgracht 206, Amsterdam